Mind Justice

at mindjustice.org

The story of the M.I.N.D. (Magnetic Integrated Neuron Duplicator) Device, and how Mindjustice.org got its name. Click here.



A human rights group working for the rights and protections of mental integrity and freedom from new technologies and weapons which target the mind and nervous system. For an overview of the issue click here.

Contents | Contact & Donation Information | Search
Highlights of the Mindjustice.org website:
Essex Human Rights Review to publish online article 'Cold War Nonconsensual Experiments: The Threat of Neuroweapons and the Danger it will happen again' by Cheryl Welsh on June 1st 2012. Click here

The author, Cheryl Welsh, would like give a special thanks to Annick Pijnenburg and Jo Easton of the EHRR for their tremendous patience and assistance in the editing of this article, my first academic article with original research. Please check back for a follow up article by Cheryl Welsh on the science of EMR neuroweapons.

The Bulletin of the Atomic Scientists Op-Eds:

Outlaw nonconsensual human experiments now by Cheryl Welsh, published online June 2009 at http://www.thebulletin.org/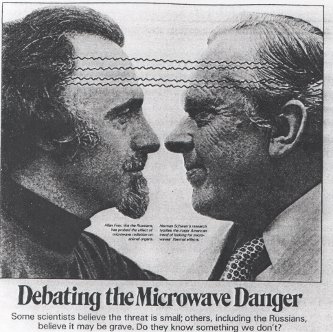 Caption: Allen Frey [man on left] like the Russians, has probed the effect of microwave radiation on animal organs. Herman Schwan's research [man on right] typifies the major American trend of looking for microwaves' thermal effects. DEBATING THE MICROWAVE DANGER: Some scientists believe the threat is small; other, including the Russians, believe it may be grave. Do they know something we don't? From: Microwave Debate by Nicholas Steneck, p.193. (MIT press, 1984, out of print).
Table of Contents
"Interview With Elizabeth Rauscher: a physicist ahead of her time"

I. Citations of Mind Justice
New October 2012 Torture, Asian and Global Perspectives Magazine, Volume 01 Number 04 to publish Essay: Modern Day Torture: Mind Control Targeting: Science Fiction or Hi Tech Torture? by Cheryl Welsh.

See Torture: Asian and Global Perspectives &nbsp A special thanks to Ed Sacchette for referring me to Torture Magazine which resulted in the publishing of this article. Click here for Mindjustice.org copy. Not for reposting.

For the first time, the Torture Magazine essay presents an outline of the neuroscience behind mind control, now called neuroweapons. It turns out that the history of neuroscience is revealing significant new evidence that such weapons may already be developed. Just one example of many illustrates the point. Experts agree that understanding, communicating and controlling the brain is a futuristic capability that has some similarities with a radio receiver which can transmit and receive radio waves. To develop neuroweapons with such capabilities requires information age science of semiconductors, solid state physics and bioelectronics, which is the application of electronics science to biology--including the brain. Information age science took off in the 1940s and led to science discoveries such as transistor radios, computers, "human transistors" and much more. Notably, the bioelectronics and "human transistors" research has been extended and has never been disproven. Nevertheless, this promising area of research remains obscure and at a rudimentary level of development. With a look back, two newspaper articles now illustrate some of the reasons why.

First, the New York Post-Standard Sunday Magazine, June 30, 1963 newspaper reported on the start of the promising career of Robert O. Becker, a bioelectronics researcher. Moreover, according to a 1985 BBC documentary and a 2010 book, the U.S. Central Intelligence Agency (CIA) considered Becker's bioelectronics research to be reliable enough to depend on for national security purposes. In the 1960's, the CIA consulted with Becker about the possible use of Soviet bioelectronic weapons on U.S. figher pilots shot down over the former U.S.S.R. Nevertheless, almost 20 years later, the Syracuse Herald-American, February 15, 1981 newspaper reported that Becker's career had been "short-circuited by the establishment." Becker stated that his research was being derailed by several U.S. government interests because he spoke out publicly about possible health risks of related technologies. Furthermore, in the following 10 years, Becker went public by writing two books that described the U.S. national security establishment and its controlling interest and monopoly over this area of research since at least the 1960s.

In the 1974 academic journal article cited below, Becker wrote: "In summary, it is proposed that all organisms presently exitant have hybrid data transmission and control systems. That the basic system consisting of the glia, satellite, SCHWANN continuum is an analog type handling data as a slowly varying d.c. potential generated and transmitted by an integral semiconducting or other solid state property. . . . It is particularly interesting to note that during the period of the maximum growth of computer technology and the development of cybernetics that one of the foremost scientists in this field, John Von Neumann, predicted on logical and mathematical grounds that such a hybridization of data transmission and control functions must exist in the biological world." It is true that promising theories about bioelectricity and the brain, including Becker's, have yet to complete the rigorous scientific process for definitive proof, however significant facts support that U.S. government interests have caused this obscure but critical area of science research to remain undeveloped while at the same time the comparable secret U.S. research could be advanced. Recently there has been a resurgence of interest in research on D.C. currents of the brain, glia as an overlooked brain communication system and analog as well as digital brain communication systems.

Click here for Becker's article describing his bioelectronics theory: The Significance of Bioelectric Potentials, Bioelectrochem. Bioenerg. 1:187–199, 1974. Becker's scientific articles can be accessed for free from academic libraries. Click here for Becker's prestigious U.S. government award for this theory. Click here for citations of Becker's scientific research.



Coming in 2012-2013 Winter Season on History/Discovery Channel: Star Trek's Captain Kirk, William Shatner, narrates the TV program "Weird or What?"

See http://www.history.ca/ontv/titledetails.aspx?titleid=255461 The last episode of the season will feature Cheryl Welsh discussing electromagnetic radiation (EMR) mind control technologies and her experience of remote advance EMR mind control targeting: "I never would have believed such advanced mind control technologies could exist if it hadn't happened to me personally. If it can happen to an ordinary person such as myself, it can happen to anyone. The targeting continues to this day only less so, but it is something you never get used to. I hope I can warn people about what it is like to be targeted and what amazing but horrific mind control technologies I experienced.

What is new is that after 20 years of targeting and research, I think I've found the scientific basis for these weapons: bioelectromagnetics. That's the line of research that is essential for developing the most advanced remote EMR mind control weapons and that remains completely classified and missing from mainstream neuroscience research, even today. It's bizarre how this fact has remained out of view of most brain researchers for decades--thanks to the amazing power of U.S. secrecy methods and scientific dogma. However, finally the importance of such facts are emerging and are a part of the new evidence of secret mind control weapons. See Essex Human Rights Review on Mind Justice website for details.

University student Hoang Nguyen's speech on experimentation law placed in the top 24 in the nation at the 2010 American Forensic Association National Tournament, cites Mindjustice.org's research

For copy of speech and background material, click here.


2010 book published. If you are interested in a serious academic discussion about the issue of electromagnetic mind control, I highly recommend this book.

Electromagnetic Mind Control Fact or Fiction? A Scientific View by V. N. Binhi, with a foreward by A. R. Liboff, Research Professor, Center for Molecular Biology and Biotechnology, Florida Atlantic University, Boca Raton, Florida. Published by Nova Science Publishers, Inc. New York, 2010.

Vladimir Binhi, a physicist at the General Physics Institute, Russian Academy of Sciences, is well known for his work on bioelectromagnetics and magnetobiology. Dr. Binhi has intensively researched these areas for more than 25 years. Dr. Binhi has published more than 50 works in peer-reviewed journals. His main publications are in leading journals including Physical Review, Europhysics Letters and Biophysics. His monograph, Magnetobiology, with a foreword by Nobel Laureate A.M. Prokhorov remains unique in that it is entirely devoted to the physics of magnetobiology.

The book is now available at Nova Publishers.com.

A short book review of Binhi's book can be found at Sci Tech News, by Susan Fingerman, John Hopkins University Laboratory, 1-1-2010 Vol. 64 (2010) Issue 3.


The 2009 book Neuro Revolution: How Brain Science is Changing Our World by Zack Lynch cites Mind Justice. This book is a great overview of the growing relevance of brain science today.

Page 177 on neurowarfare: "Extreme stories and wildy paranoid suppositions about such weapons are frequently posted on the Web site of Mind Justice . . . [Jonathan] Moreno believes that the various neuroweapons already developed, and those on the horizon, would never be operated within our society, but only against enemy combatants. But he qualifies that belief as being just one guy's opinion, and adds that it may be human nature, at least for most of us, to want to deny that potential negatives may be looming. "We already operate in comfortable self-denial," he says, "regarding how much is already known and shared about us from our credit card usage, Internet clicks, and so on. So it is not hard to understand why there are so many paranoiac ideas in circulation, even among articulate, educated and highly qualified people." . . . He has had several conversations with Cheryl Welsh, director of Mind Justice. Once he asked if there was any evidence he could present that might prove to her that she was wrong. Her response: "There isn't any way."

See http://brainwaves.corante.com/archives/2009/08/18/wonderful_review_of_the_neuro_revolution_in_cerebrum.php

Tek Nath Rizal's 2009 Book Torture, Killing Me Softly Delivers the Coup de Grace
by Cheryl Welsh, Director, Mindjustice.org
December 2009

The 2009 book Torture, Killing Me Softly by Tek Nath Rizal alleges government mind control torture with secret electromagnetic radiation (EMR) mind control weapons. Tek Nath Rizal was a prominent government consultant to the South Asian country of Bhutan, before he exposed corruption in high places. He became a popular political figure and internationally recognized human rights activist. His book is about his experience of several years of imprisonment in Bhutan with an emphasis on the EMR mind control torture. The U.S. Department of State and Amnesty International regarded Rizal as a political prisoner and won his release from prison. Rizal has written several books, some of which included his accounts of mind control torture. The books have been very successful in Southern Asia.

Against all odds, he published this book, Torture, Killing Me Softly. Mindjustice.org extends our deepest thanks for his great effort and sacrifice. I highly recommend this well written, concise and ground breaking book. For the first time, a variety of medical, government and military professionals publicly acknowledge secret EMR mind control weapons for interrogation and torture in prisons and on POWs, prisoners of war.

More Information, including links to reviews by Cheryl Welsh, and news services.

February 2011 update. Torture, Killing Me Softly has been re-released. This is the compelling story of the Bhutanese refugee movement and also mind control by its leader, Tek Nath Rizal. This edition includes an endorsement of the book by mindjustice.org. Now available, free download. See: teknathrizal.com

The new edition of Torture, Killing Me Softly was edited by journalist Deepak Adhikari. Time magazine published an article on Nepal by Adhikari on January 26, 2011. See: deepakadhikari.net


New cable TV program on the mind control issue
by Cheryl Welsh, director Mindjustice.org

The History Channel, That's Impossible series, episode 6 entitled Mind Control
August 11, 2009, at 10 pm pst.

You may be able to view it at the History Channel; click on Full Episodes. It is available on itunes for $2.

That's Impossible transcript now available here. Not for reposting.

1931 Scientific experiment cited in 1997 MIT Press psychology book proves rudimentary subvocal thought reading is possible. Refutes Bioethics Commission expert's testimony. Click here for citations and information.


Cheryl Welsh, director of CAHRA [now Mind Justice] listed as one of six Non-Lethal Weapons Experts in the world in UNIDIR, United NationsInstitute for Disarmament Research 2002 Media Guide to Disarmament inGeneva.


For full Media Guide see
http://www.unidir.org/bdd/fiche-ouvrage.php?ref_ouvrage=92-9045-002-2-en
CAHRA [now Mind Justice] is listed on page 25, or see excerpt here. Media Guide cites Welsh article "Non-lethal weapons-A global issue" at Nonlethal Weapons - A Global Issue

Endorsement by Dr. Eldon Byrd
Eldon Byrd was a Medical Engineer with an MS from The George Washington University. He was a POLARIS submarine expert for industry, and held various positions in the US Government, including Strategic Systems Analyst, Operations Research Analyst, Cryogenic Engineer, Head of the Department of Defense Environmental Projects Office, Project Manager for the Navy's Metal Matrix Composites Program, and Project Manager of the Marine Corps Non-Lethal Electromagnetic Weapons Project. His contractors for this project included Drs. Ross Adey, Michael Persinger, and Robert Beck.
He is considered to be an expert in the biological effects of extremely low frequency magnetic fields.
He was the technical consultant for the book "Maze", by Larry Collins, and was directly involved in the evaluation of Igor Smirnov's "Psychodiagnosis and Psychocorrection" technique while Smirnov was in the US. Dr. Byrd died on Dec. 30, 2002.

The Scientific American, October 2005 article entitled "The Forgotten Era of Brain-Control Chips" by John Horgan, cites Mind Justice. "...Other Web sites ...deplore it as a government mind-control plot, www.mindjustice.org". Click here for brief citations. To see relevant excerpt, click here. Access and download the entire article from Scientific American pay-per-view electronic archive at www.sciamdigital.com.

Cheryl Welsh is cited in Mind Wars: Brain Research and National Defense by Jonathan D. Moreno, Ph.D. On page ix, "Acknowledgements Mind Wars grew out of a wide variety of conversations and experiences. Among those who provided me with specific assistance on problems I confronted as I explored this largely uncharted territory were . . . [list of seventeen names including Cheryl Welsh]." For book review, see Nature, Vol 443, 26 October 2006 page 911, Battlefield between the Ears by Charles Jennings.

2007 JAMA book review, click here.

2007 Bulletin of the Atomic Scientists (Online) book review, click here.

2007 National Catholic Reporter book review, click here.

Cheryl Welsh has prepared a relevant article, The 2006 Government Mind Control Debate and Book Review (300k). Also available are a smaller file of just the Summary (30k) and a pdf file (600k).

New 2012 paperback edition Mind Wars, Brain Science and the Military in the 21st Century. See: http://www.americanprogress.org/events/2012/05/mindwars.html

Without Professor Moreno, it is unlikely mainstream press and the public would know about the growing importance of emerging brain research. However, it was published after new key information became available on the debate over how advanced the decades of secret brain weapons research could be. See Essex Human Rights Review on the Mind Justice website. In early 2012, Moreno was invited to join the United Nations Educational, Scientific and Cultural Organization's (UNESCO) International Bioethics Committee. Moreno will serve as one of 36 independent experts on the International Bioethics Committee.

January, 2008 Los Angeles Times obituary for Walter Bowart, a giant in mind control activism. Walter was someone who genuinely cared about the human race and especially those targeted with mind control. Then he did something about it. Working with Walter as a founding director of Freedom of Thought Foundation was an honor for me. While thwarted and targeted himself, he perservered and broke new ground for mind control activism. He started the first ever mind control human rights group and newsletter in the early 1990s. He did more research and published a new version of Operation Mind Control. I will remember Walter for his understanding when almost the whole world did not.

Table of Contents | Top

II. Russian Research
III. Experimentation Law
IV. Selected Projects by Mind Justice


A special thank you to Vincent Cano, Founder and Director of Angelic-Harp Foundation at http://angelicharpfoundation.org . Vincent approved two grants for Mind Justice Projects in 2006 and the results will be posted in 2007. Click here for details.

For the first project, the web version of the full Project Censored article, click here.


October, 2004 science literature review projects begun

New Post: Project Completed

UC Davis Electrical Engineering Student Report
by Zhijun Wei, UC Davis electrical engineering student, with background information by Cheryl Welsh, director, Mind Justice October, 2005

Current feasibility of antipersonnel electromagnetic weapons on the battlefield and
Current feasibility of remote surreptitious tracking and targeting of humans via satellite
Table of Contents| Top

V. Research and Information
Gloria Naylor, author of 2005 book, 1996, 1983 National Book Award winner
Jon Ronson, New York Times reviewed author, journalist
William Arkin, military analyst, Los Angeles Times columnist secrecy expert
Richard Garwin, Council on Foreign Relations nonlethal weapons report co-author

VI. Allegations by Targeted Individuals from Around the World
VII. Future Plans for Mind Justice
Mind Justice, a new name and direction for Citizens Against Human Rights Abuse by Cheryl Welsh, director, Mind Justice